Mike Cunningham got an ace on Friday 27th October in the Seniors roll up at the 6th hole off winter tee using a 4 wood. Scored a 1 with a shot so zero went on the card for 5 points.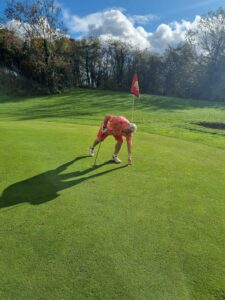 Congratulations to Denni Coleman for getting a hole in one on the first hole at Llany whilst playing with her family today. The first of many ! Julia Line 04/09/2023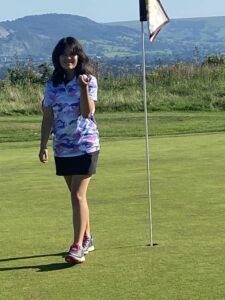 ---
Congratulations to Thomas Allen who got a hole in 1 at Hole No2 whilst playing in the academy Club Championship at Juniors tonight. Thomas may this be the first of many … Julia Line 21/08/2023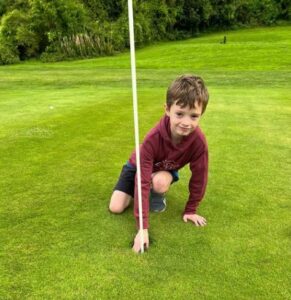 ---
Congratulations to new local member Simon Owen for his Hole in One at the 6th in the Coronation Cup on 27th May 2023. Not many manage 8-8-1 on 4-5-6
---
Hole in One in for Nick Clewlow Captain v Vice Captain 4BBB match
Saturday 1st April 2023 [No, its not an April Fools joke]: Nick holed a well struck 9-Iron Tee Shot at the 15th from the New Winter Tee. Playing Partners were Paul Dunn, Akeel Roberts and David Yapp. Nick informed us it's his 2nd Hole-in-One.
Nick and Akeel also went on to win the Gordon Passant Trophy.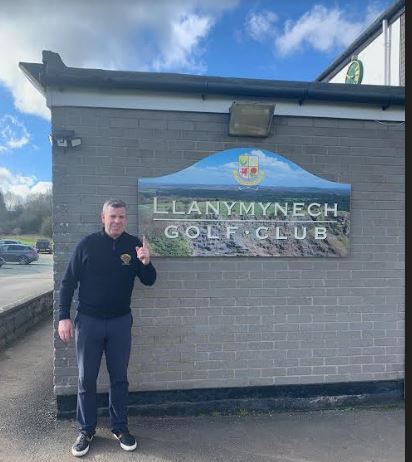 ---
Hole in One in Winter AMAM
Saturday 11th February 2023 : Playing in the Winter AMAM competition 18-handicapper Clive Andrew holed a well struck tee shot at the 3rd, watched by playing partners Sandy Johnston, Steve Pritchard and Nigel Kelton
---
First in 2023 at Llany and first ever hole-in-one from new tee at 15th ! 
Saturday 28th January 2023 : Playing in the Winter Yellowball *Double AMAM competition Pete Whale holed a well struck 8-iron tee shot at the 15th, the first to do so from the new winter tee. Playing partners were Steve Gauge, Brian Suckley and Gary Carter.
Unfortunately Pete wasn't the Yellow Ball !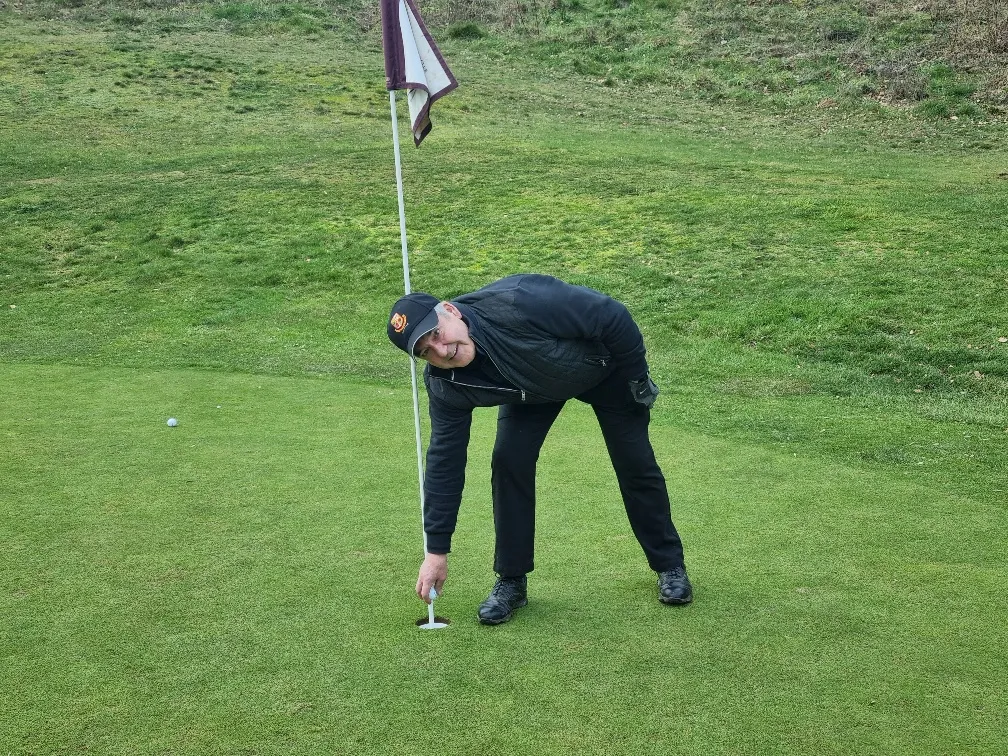 ---
Tuesday 25th October 2022 : Playing in the Seniors Cup John Keable holed his tee shot at the 15th [Orange tee]. Awaiting more info ?
---
Saturday 15th October 2022 : In the first Xmas Competition of 2022 our captain Phil Ellis holed his tee shot at the 198 yard 6th [white flag]. We are investigating if this is a unique occurrence and all ex-captains are invited to comment ?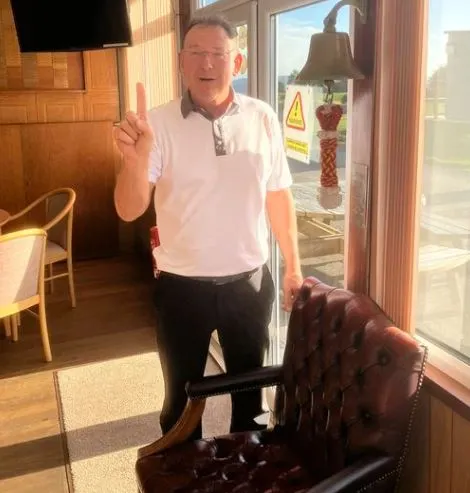 ---
Saturday 16th July 2022 : In the Ron Leonard Cup Colin Preece improved on his 'Nearest the Pin' on Captains Day by a couple of feet to hole his 7-iron at the first hole. Playing partners Richard Sheehan and Alan Jarman lost sight of the shot in bright conditions. Celebrations did not begin until Richie decided to check the hole after looking through the back of the green
---
Friday 17th June 2022 : On the annual Alec Atherton trip of mainly Llanymynech members  Bob 'The Sweep' Jones  hit a perfect 7-iron to the 17th hole at Wokefield Park, Reading. Playing partners Stuart Jones, Peter Whale and Mike Shakeshaft politely congratulated Bob who told us it was his 4th ace
Awaiting photo …

---
Friday 10th June 2022 : Congratulations to Mark "Jano" Evans who thinned, sorry struck a great 8-iron to the 3rd green on Captains Charity Day. Thanks to playing partner Ian Walker for the pix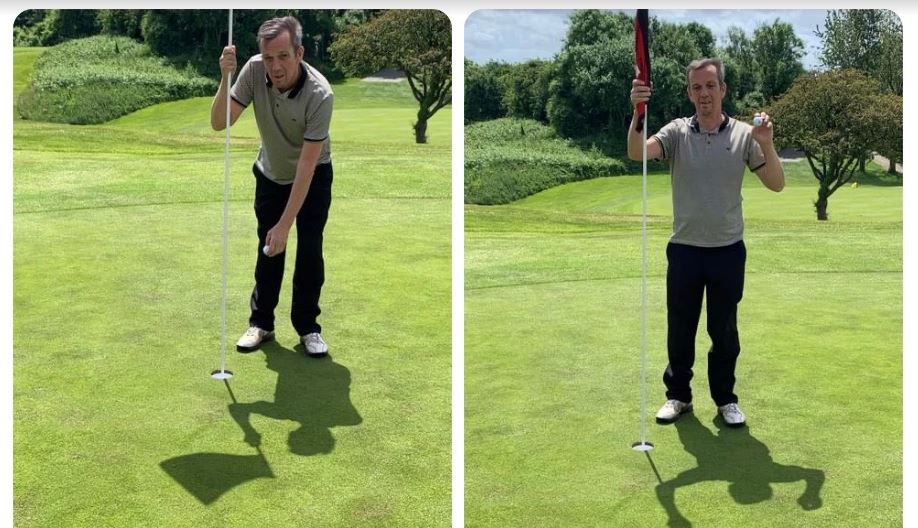 ---
Congratulations to Karen Swanston for getting a hole in one today [Friday 27th May 2022] at the 13th hole at Shifnal in the County Ladies Championship, reported by Anne Weetman who went on to win the title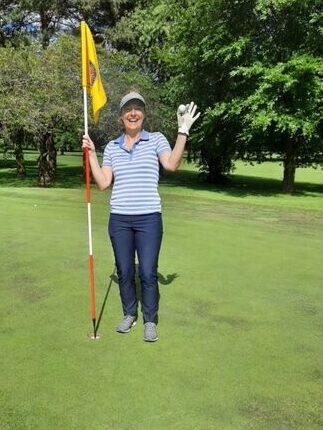 ---
First in 2022 at Llany and first ever hole-in-one in competition golf for Ron !
On Saturday the 2nd of April 2022 playing in the Chronicle Cup Qualifier Ron Fox holed his 5-wood off the white tees at the 1st. A rare 5 pointer in the Stableford comp helped Ron to 34 points.
It was Ron's first ace in competitive golf after many years of trying and he was congratulated with a wee dram by playing partner Jim Edwards and many others in the clubhouse afterwards.
---
Congratulations to Andy Lowe on achieving his first ever hole-in-one  !
On Friday the 31st of December 2021 playing in the Seniors Roll-up Andrew holed his 16° rescue club at the 16th. It looked as if it might be close commented playing partner Anthony Down as he added 5 points to the card.
To do it at the 16th is especially noteworthy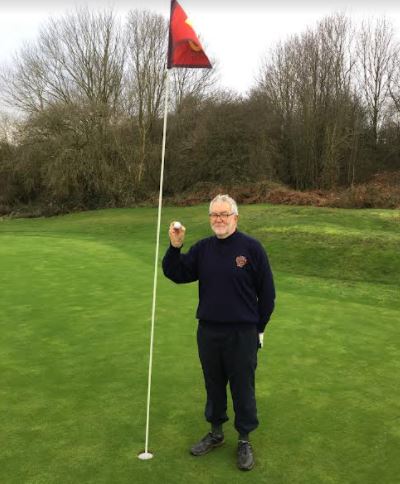 ---
Is this the last Hole-in-One at Llany this year ?
On Tuesday the 21st of December 2021, Colin Maloney struck a perfect 8 iron to the 6th green.
'One hop and in it went' said Colin who in true tradition provided a tipple at the 19th. Thanks, Colin and here's to your next one.
---
It's turning into a habit for Jim !
On Tuesday the 10th of August 2021, Jim Legg playing in the Seniors Swindle struck again with an ace at the 6th hole. It's only 11 months since we reported Jim's first ace on the 15th. Thanks to Ian Walker for taking the pic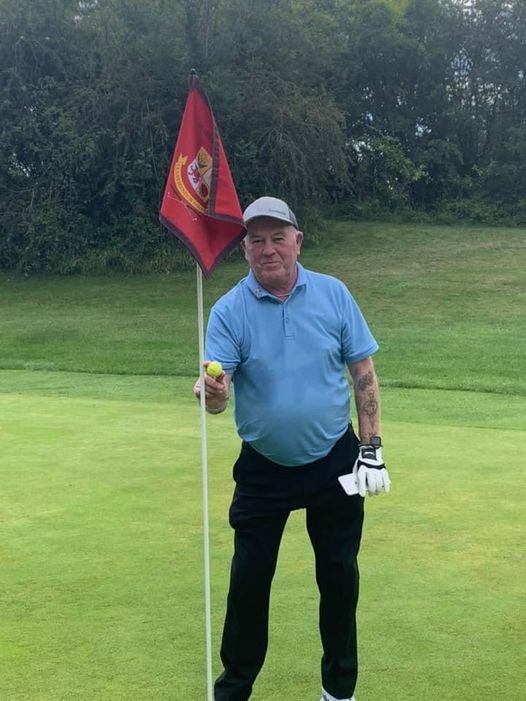 ---
Roy's 4th ace
On Wednesday the 23rd of June 2021, Roy Davenport had his fourth ever ace at the 132 yard 4th hole at Old Padeswood Golf Club in the Clwyd and Border Alliance with a sweetly struck 8 iron.
Roy, playing partners Shakey, Snowy and Ian Suckley watched it nudge the pin on the top layer of the 2-tier green and settle by the hole not convinced it was actually in. As the fourball crossed the bridge to the green the ball disappeared into the cup. Congratulations to Roy !
---
June 13th 2021
Wonderful news that our Junior Organizer Julia Line today made an ACE at Hole 6!!! Fantastic news and many congratulations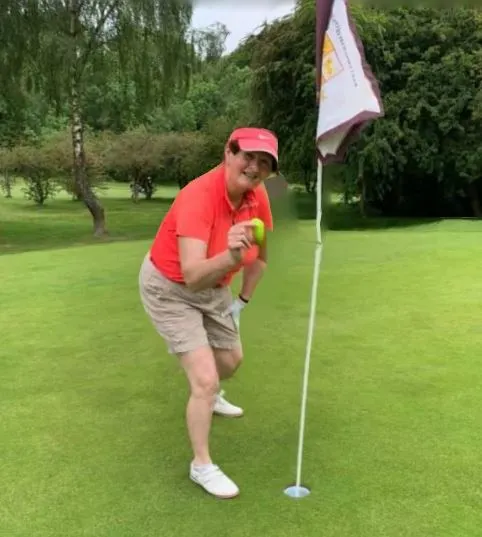 ---
More whiskey in the marquee
On Saturday the 5th of June 2021, Dave Sheppard had his second ever ace at the 6th in the Norman Logsdail Jubilee Tray with a hybrid [5-iron equivalent] club.
Dave and playing partners Steve Pritchard and Mungo Munro claimed not to have seen it go in because of the unusual light conditions [blue skies and glorious sunshire !]
---
Lucky or unlucky ?
On Saturday the 29th of May 2021, Terry Williams had his first ever ace at the 3rd in the Coronation Cup. It helped him to a winning score of nett 66 in the Board Competition
If Terry had done it 24 hours earlier in the Mizuno Pairs event at Llany he would have scooped prizes worth £10,000 !
---
Maiden hole-in-one for Jim
On Monday the 14th of September 2020, Jim Legg had his first ever ace at the short 15th with a well struck 6 iron.
We're not giving away Jim's age but it's been a long wait …
---
First competition hole-in-one at Llanymynech since 'lockdown'
On Tuesday the 14th of July 2020 in the Seniors Open 4BBB, congratulations must go to Girvin Palfrey of Rhuddlan GC for his hole-in-one at the 1st hole. It helped towards 44 points and 4th place for Girvin with partner Derek Turner.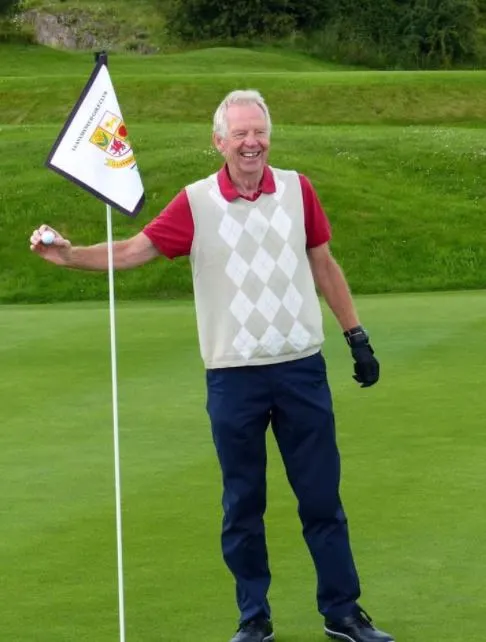 ---
First hole-in-one at Llanymynech since 'lockdown'
After reopening to 2-balls only on Wednesday 13th of May 2020 we only had to wait 11 days for our Seniors section treasurer Adrian "Adi" Jones playing with stepson Harvey, to hole his tee-shot at our long 16th. Thanks for the Twitter 'pic' and what super weather 😉 😉

---
Double aces at the 15th !!!
On Saturday the 8th of February 2020 in the Winter AMAM we had a unique event in that Kenton Cawley playing off 5 and Graham Edwards playing off 18 both had holes-in-one at the 15th. High odds indeed especially as Graham was in the group following Kenton …
It was Graham's 1st ace and Kenton's 4th ace. Here they are pictured with their scorecards.
Also see it at
Your Golf Magazine
, 
LlanymynechGC Facebook
---
On Saturday 18th of January 2020 in the Winter 4BBB 9-handicapper Jason Smith has his first ever ace at the 3rd. Jason's obviously hoping to get down to 6, like his dad 😉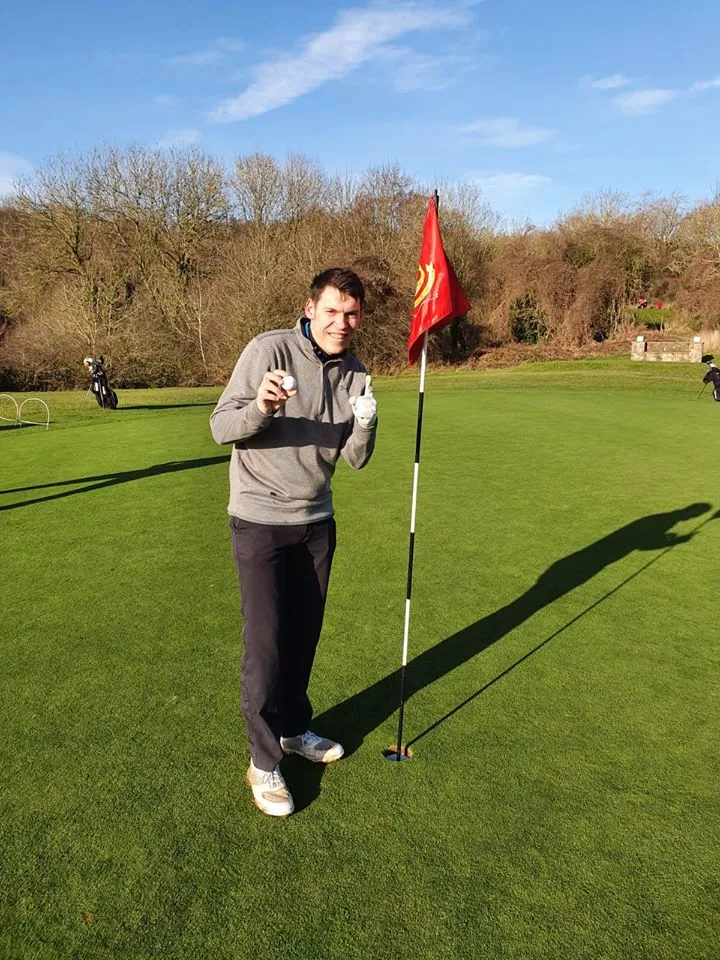 ---
On Wednesday 20th of November 2019 in the Clwyd and Border Golf Alliance Texas Scramble at Ruthin-Pwllglas Golf Club Brian Beckett's tee shot disappeared over the brow on the long 219-yard 3rd hole. After a short search the ball was found nestling in the cup …
Probably the longest achieved by a club member ?
---
On Sunday 3rd of November 2019 in our Winter Open 4BBB Chris Kane a 12-handicapper from Arscott Golf Club holed his teeshot at the 6th. In the same fourball was Ian Farquharson [Tom's dad]
---
On Saturday 4th of May 2019 in the Vice Captains Cup Jeff Johnson had his ace at the 1st
---
On Thursday 7th of February 2019 Sandy Johnston helped his Shropshire & Herefordshire Golf Pros Alliance Llanymynech team win at Ludlow Golf Club with an ace at the 17th
The team of Lee Rooke, Tom Brown, Dave Sheppard and Sandy pipped Aberdovey A and Chesterton C with 85 points in the AMAM